Journal Entry:
Thu Dec 17, 2009, 8:55 AM
Next Kiriban: 99999

What is a Kiriban?
A Kiriban is like a price. When you get on my profile page and get the right number of pageviews displayed you can make a screenshot and show it to me.
Therefore you get a price.

What you can get:
Up to 2 Characters fullbody, full colored with shading and background

Rules
- The screenshot has to show your whole screen. Don't reduce the size or edit it in any way
- Post your screenshot to this Journal, not anywhere else
- Post your screenshot within 7 Minutes after the catch, if nobody posts one in time the kiriban decays
- If you already catched a Kiriban you have to wait at least 3 Kiribans until you can try again to catch one. (This does not count for the Random Kiriban)
- You got a +/- 1 pageview? Post a screenshot too, because if nobody catched the right one or the person who got it exceeds the deadline you have
also a chance to get it
- Be fair and honest! Don't try to fool me and fake a screenshot to get free art!
Random Kiriban
A Kiriban I choose between the waiting time for the big Kiriban sometimes.
It can happen all the time and it will be one to get reached fast.

What you can get:
1 Character, full colored + shading without background
Who already received a Random Kiriban

__________________________________________________________________


Kiriban Overview




"Bloody War"- Comic




FAQ




Zelda - The end is near... - German Version




Animexx




Fur Affinity




100-Theme challenge



You may not use my art for your RPGs, chat sites, videos, etc. None of my images are to be posted outside my DevArt/ Animexx. If you see such they were very likely not given permission so please contact me about it.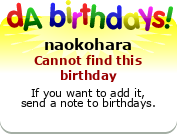 Mood: Optimism
Listening to: Christmas songs
Reading: nothing
Watching: Polar Express
Playing: nothing...
Eating: nothing at the moment
Drinking: water

Watch

Congratulation

What can I draw for you?

You can also send me the info per note if you don't want to write it down here.
Reply